If you've ever pulled one of the delirious movie theater all-nighters preceding the opening of a wildly anticipated film, then you know that one does not simply walk into a midnight screening.
One has to be prepared. With snacks, with copious amounts of caffeine, with books and laptops and board games, with tents and blankets and umbrellas. If you're really serious, you'll need a costume. At the very least, you must wear the right T-shirt. For the love of Obi-Wan, please leave the guitar at home.
The way "Star Wars: Episode VII — The Force Awakens" is shaping up, it just may be the craziest midnight movie experience ever. Whether you're planning to spend a week, a few days, or a couple hours waiting in line to nab the perfect seat and bask in carnival-like camaraderie with fellow fans, you'll need to have your s*** together.
That's why we've assembled this guide to the swag you'll need to survive "Star Wars: Episode VII — The Midnight Screening."
Be careful out there and, as always, may the Force be with you.
Stay hydrated or caffeinated with the Thermos Star Wars R2D2 12oz FUNtainer Straw Bottle. $14.99.
Pass the time gleaning backstory from Chuck Wendig's "Star Wars: Aftermath," set between "Return of the Jedi" and "Episode VII." $16.96.
Carry all the stuff you'll need to survive until midnight in one of Loungefly's stylish backpacks. Prices start at $45.
Baby — or should we say, BB-8 — it's cold outside. Bundle up and profess your love for everyone's favorite new droid with the BB-8 Infinity Scarf. $24.99.
If you're one of the hardcore fans who plans to camp out at the theater for days on end, this Star Wars Tauntaun Sleeping Bag is a must to get you through the long, chilly nights. $149.99.
Wear your Star Wars pride like a badge of honor with these Star Wars Rebels Rubber Bracelets. $3.57.
It's a happy coincidence that "The Force Awakens" will arrive just in time for Christmas. Star Wars Holiday Sweaters blend these auspicious events into one warm and snuggly garment of awesomeness. $49.99.
We now live in a world where there is Star Wars everything, including gloriously weird items to nosh on while waiting to gain entrance to "The Force Awakens." Just troll the aisles of your favorite grocery store. You'll find 'em. Prices vary.
What kind of fan would you be if you didn't show up to see "The Force Awakens" wearing the appropriate T-shirt? Again, you can find these almost everywhere. Prices vary.
This majestically furry hoodie needs no explanation. You know you want it. $69.99.
Let your body be your Star Wars canvas with these temporary tattoos. Bonus points if you hand them out in line. $6.95.
Die-hard fans will be standing in line and showing off their best Star Wars costumes, but many theaters are banning the carrying of faux weapons for security reasons. They're not likely to confiscate the Mini Lightsaber Tech Lab, and you can entertain yourself by building it while you wait. $22.99.
Fangirls, you don't have to wear your boyfriend's ugly Star Wars T-shirt to the midnight screening of "The Force Awakens." Thanks to Her Universe, you can express your sci-fi self with style in jackets, leggings, T-shirts, costume dresses and other apparel, like this Lightsaber Skirt. Prices vary.
Warm ears, warm heart. Keep your head toasty with the Princess Leia Beanie and other headgear. $14.99.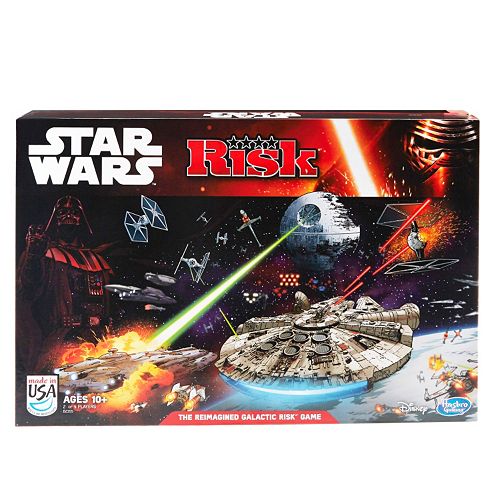 You can only watch "The Force Awakens" trailer so many times on your phone. When that gets old — okay, so it never gets old — entertain yourself and your posse with the Risk: Star Wars Edition Game. $29.