Since Force Friday unleashed a seemingly endless blitz of Star Wars merchandise onto store shelves, you'd think it would be easier than ever to shop for fans of George Lucas' sci-fi saga.
But there's so much stuff out there (and a lot of it is just cheap crap, if you'll pardon me for saying so), it can be overwhelming and frustrating to sort through the piles and piles of collectibles, toys, T-shirts, action figures, and other goodies.
Fortunately, we've simplified the Star Wars gift-buying experience by picking out a few of the most promising buys to be found this holiday season.
Here's an easy guide to finding that perfect Star Wars-themed Christmas gift.
May the force be with you, and your days be merry and bright.
Give the Ultimate Gift
When the new Episode VII merchandise was released on Force Friday, the belle of the ball was undoubtedly BB-8. The Sphero BB-8 App Enabled Droid is as close as you can get to owning your own droid. You can guide him with a smartphone or tablet. He recognizes and reacts to your voice and records and plays virtual holographic videos. Plus, the rotund little guy's attitudes and actions evolve as you interact with him. $149.95. Get it here.
And if you can't shell out $150?
A more affordable option for BB-8 admirers — the Star Wars Episode VII The Force Awakens BB-8 Super Plush. $15.67. Find it here.
For the young Jedi
Give that young Jedi in your life the coolest new weapon wielded in The Force Awakens. The Star Wars The Force Awakens Kylo Ren Deluxe Electronic Lightsaber extends with a flick of the wrist and simulates classic lights and sounds. $29.99. Buy it here.
Go Back to Where It Started
What better way to prepare for The Force Awakens than by revisiting George Lucas' original trilogies? Star Wars: The Complete Saga (Episodes I-VI) [Blu-ray] presents all six movies in high definition, along with 40 hours of special features. $84.99. Get it here.
For Heroes in the Making
Kids can recreate the classic Episode IV escape scene with Playskool Heroes Star Wars Millennium Falcon. This starter kit of sorts includes a push-activated blaster cannon, sensor dish, and ladder, and three figures, Han Solo, Chewbacca and R2-D2.  Other sets are available too, including Endor Adventure and Echo Base Encounter. $39.99. Find it here.
The Most Epic Bedtime Story of All
Train up young Padawans in the ways of the Force with the Star Wars Little Golden Book Boxed Set. Six books recount the stories of Episodes I-VI. $24.99. Buy it here.
For Builders Young and Old
Collectors and little builders will find a multitude of Star Wars Lego sets to choose from at shop.lego.com. We're especially fond of Poe's X-Wing Fighter. It's equipped with spring-loaded shooters, stud shooters, retractable landing gear, opening wings and more. $79.99. Get it here.
For the Fashionista Who's One With the Force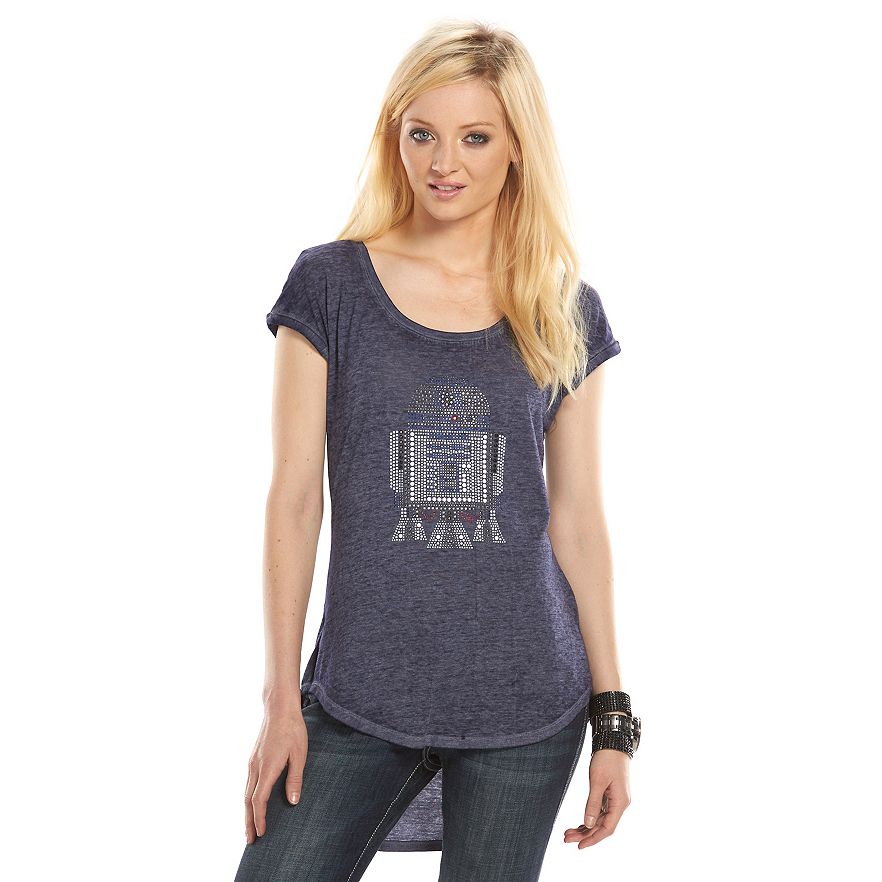 Fandom meets high fashion with Rock & Republic's Star Wars R2-D2 Embellished Tee, shimmering with a rhinestone graphic of the most lovable droid in the universe. Other glam Star Wars inspired designs are also available. $19.99. Find it here.
An Elegant Weapon for a More Civilized Age
Every Star Wars fan should have their own lightsaber. And the closest thing to owning the real thing comes courtesy of Force FX. May we recommend the Star Wars The Black Series Kylo Ren Force FX Deluxe Lightsaber? It features realistic light effects, movie sound effects, three blades, a metal hilt and a display stand. Whether you sway toward the dark or the light side, Force FX offers many other varieties of the Jedi's signature weapon as well. $199.99. Buy it here.
Keep it Clean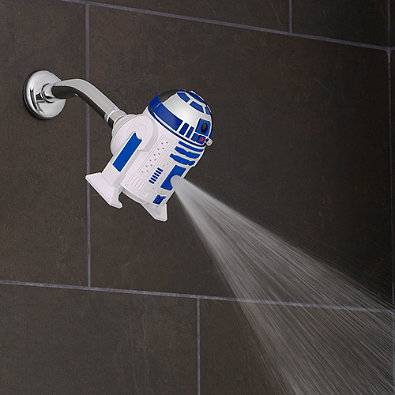 Who wouldn't want to see Luke Skywalker's peppy little droid first thing in the morning? Soaping up has never been more fun with Oxygenics Star Wars R2-D2 3-Spray Fixed Showerhead. It features three different spray settings. There's also a Darth Vader handheld version. $24.99. Get it here.
Artoo on the Go
Carry Artoo with you wherever you go with the Star Wars R2-D2 Mini Dome Bag. The faux leather tote costs $68. Find it here.
Surprise Them
Want to put a little mystery into your favorite Star Wars fan's life? The HeroBox Star Wars Saga Silver Edition 2.0 ships 70 bucks worth of surprise Star Wars goodies, including a T-shirt, to their door. $49. ($69 for the Gold Edition.) Buy it here.
(The) Death (Star) Never Tasted So Good
Ain't no party like a party with Star Wars Death Star Chip & Dip Bowls. Each bowl holds 64 oz. There's also a version starring Artoo and Threepio. $11.99. Get it here.
Form a Romantic Rebel Alliance
Declare your undying affection for that special someone, Han and Leia-style, with these matching I Love You/I Know Rings. The engraved surgical stainless steel bands come in sizes 5 to 11. The Rebel Alliance symbol is emblazoned inside. $19.99. Find it here.
For Galactic Gamers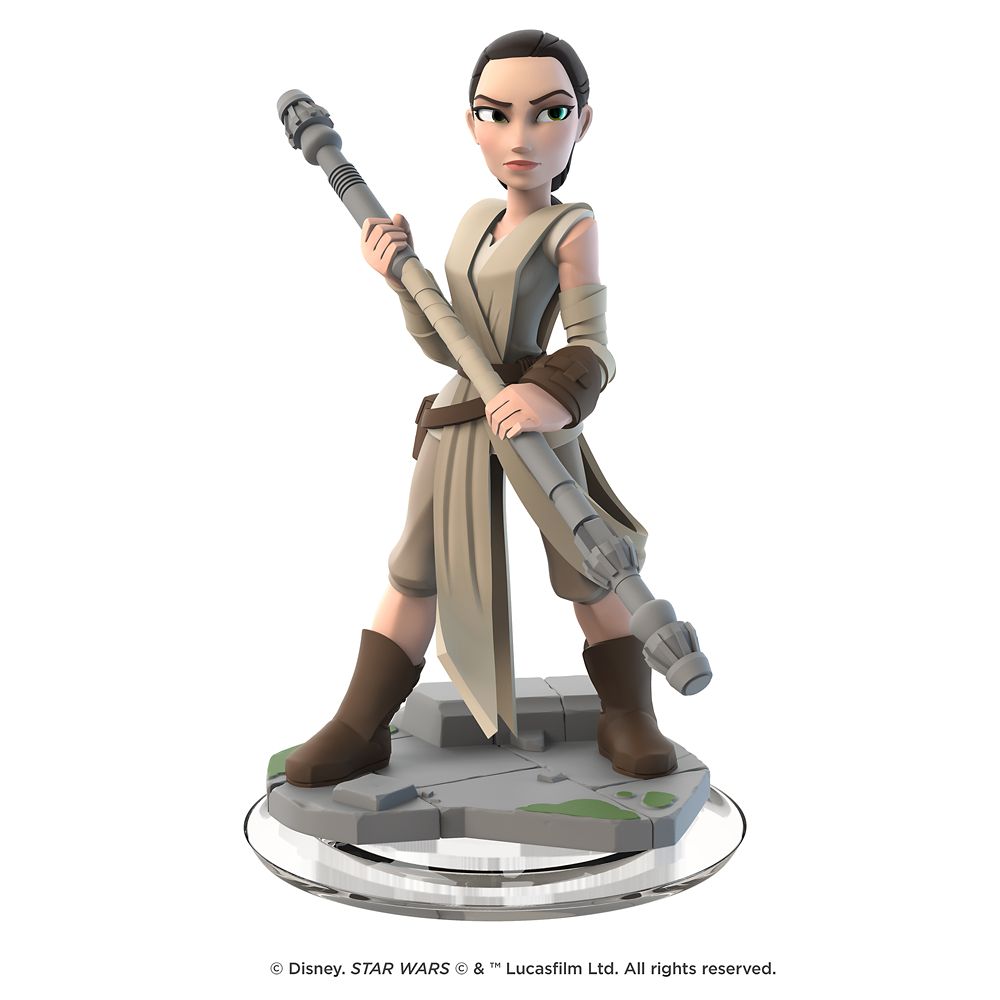 One of the hottest gifts for gamers this season is the new Disney Infinity: Star Wars: The Force Awakens Play Set (3.0 Edition). It features a pair of Rey and Finn figures. Other characters are sold separately. The set won't be available until The Force Awakens officially opens in theaters on Dec. 18. $34.99. Preorder it here.
Yoda Santa photo: www.forcecast.net.